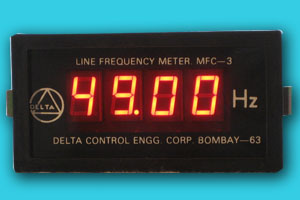 MFC - 4 is a new generation of digital panel meters, utilizing the latest microcontroller technology. It computers frequency by very precise cycle width time measurements, also it has an elaborate noise discrimination algorithm.
The instrument can be connected by an optional RS-485 (MODBUS - RTU) output. Thus it can be used as a component of a data system.
MFC- 4 is precision instrument finding applications in Power Houses, Labs, Test Benches etc. The Instrument uses very high professional grade components offering unsurpassed reliability.


Technical Specification :