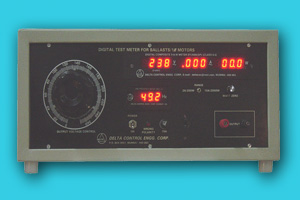 "DELTA" Control Engg.Corp. have introduced Digital Test Panel for checking electrical performance of lighting ballasts/ fixtures, single phase motors, appliances and hand tools etc. The Panel is designed to handle p.f. range from 0.04(lag) to unity.
The self-contained Panel obviates the need for one to fabricate his own test panel using umpteen different types of analog / digital instruments. The composite V-A-W Meter is Delta"s own innovation and the wattmeter can handle wide range of voltage, current, and p.f.
The Panel can test either ballasts alone for production QC or completed fixtures or any kind of motive / heating loads upto 8 Amp. The equipment is built in simple and rugged fashion; it can withstand momentory motor starting currents (up to 20A) without any damage.
SPECIFICATION:
AC INPUT: 230 VAC+10%@ 2.5KVA
AC OUTPUT: 0-270V @ 8 A max
DIMENSIONS: 24"W x 12"H x 15"D
WEIGHT: 15kG (Approx)
CONTROLS :
a) INCOMING SUPPLY ON/ OFF SWITCH
b) OUTPUT VOLTAGE CONTROL 8 A VARIAC
C) RANGE SELECTION 1) 200 W- 1A
2) 2000 W- 10 A
INSTRUMENTS:
a) COMPOSITE V-A-W METER COMBINATION OF MODEL DT-200/ DT-200 ( 250V / 2A-200OW / 20A-200W)

b) LINE FREQUENCY METER WITH ACCURACY AND RESOLUTION OF 0.1 Hz