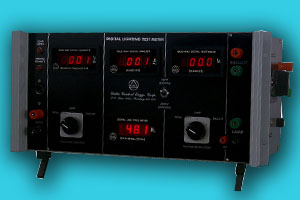 DIGI -LI-TEST is an integrated, portable and digital light test panel suitable for measurement of electrical parameters, voltage, frequency of ballast or of complete luminaire with different types of light sources; fluorescent lamp, high pressure sodium vapour lamp up to rating of 2000 W.
DIGI-LI-TEST is an universally preferred choice for electrical parameter testing and inspection application where tight quality tolerances are required.
· For small scale industries manufacturing ballsts and luminaries
· For large marketing organisations to have uniform quality control
· For demonstration of luminaires at site in customer"s premises.
· For large scale users of lighting equipment to impose incoming quality control.
· For inspecting authorities.
WHY BUY AN INTEGRATED DIGITAL LIGHT TEST PANEL?
· Simple to operate as integrated panel is equipped and prewired with digital voltmeter, ammeter, wattmeter and frequency meter.
· More reliability as digital meter is of class 0.5 accuracy.
Easy to read digital meters and therefore semiskilled people can use it.
· Less error as can be read from any angle unlike removal of parallax in analogue type of meters.
· Improved speed with accuracy as meters are of digital type.
· True RMS type of meters and therefore better accuracy and reliability.
· No cumbersome wire connections unlike pressure coil/ current coil in analogue type of meters.
· No need to use separate range of meters for different loads.
· Portable and therefore can be taken even to customer's premises.
SALIENT FEATURES:
· By using selector switch the voltmeter can display Total / Lamp / Ballast voltages.
· By using selector switch, the wattmeter can display Total / Lamp / Ballast wattage.
· Ammeter displays continuous load current
· Frequency meter displays continuously the mains frequency.
· Load Supply indication of the load supply by a neon lamp.
· Reverse polarity indication of the load supply by a neon lamp.
· Circuit breaker- No fuses used.
· The voltmeter is protected against ignitor"s high voltage pulses up to 10KV
STANDARDS AND CERTIFICATE:
DIGI-LI-TEST panel is manufactured in accordance with national standards and shall be provided with traceability test certificate against YEW WT-230 Standard.

Technical Specification :