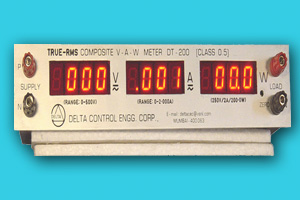 Introduction of composite V-A-W Meters by "Delta" in 1989 has been a runaway success;their large number in the field all over the Country bears testimony to their performance and reliability. "DELTA" have also been the pioneers of the Digital Wattmeters in the Country since 1982. Those electrical engineering industries which comply with BIS standards, they will find Composite V-A-W meters as a necessity. The concept composite not only dose away with interconnecting wiring, it also saves space in the panel and is economical too.Applications are in:· Domestic Appliances Manufacture, such as fans, mixes, hotplates.
· Lighting Equipment Manufacture.
· F.P.H. Motor Industry
· Industrial Heater Manufacture.
When used PC/ CT signals, composite V-A-W meters are useful for utilies as well.
SPECIFICATIONS:
DIMENSIONS: 290mmW x 180mmD
AUX. SUPPLT: 200-250 VAC @ 8 VA
FREQ. RESPONSE: 10Hz- 10kHz (all displays)
CONNECTIONS: 1) Aux. supply by barrier terminals on the rear
2) Load supply/ load terminal of 4 mm ø - 15A rating on the front dial (rear connections only against specific request.)
a) True-RMS version of DT-200 (SP) is DTRMS-200, having the same specifications except the voltage & the current displays are of true- RMS type. All of the Delta's digital wattmeter are of true - RMS type. DTRMS -200 is very useful for measuring distorted current waveforms especially in electronic ballasts.
b) When using DT-2000/ DT-2000 (SP), if frequent heavy starting surge currents are encountered, the use of external CT operated models, for more reliable operations, is suggested.
c) For custom-built models send with your specific requirements.
PROTECTION:
1) The aux. supply to the instrument is protected by a metal-oxide varistor against high voltage surges. However inductive loads such as a contractor-coil, heavy- duty transformers, etc. should not be connected across the same supply.
2) The voltage sensing circuit is protected by a heavy-duty metal-oxide varistor of 500V rating connected across the load terminals. Hence the load supply should not exceed 500 VAC.
3) The current sensing circuit is protected by a replaceable glass-cartridge fuse on the rear of the instrument. This glass cartridge fuse should not be replaced by fuse of higher ratings or wire shorts. Otherwise the instrument may get damaged.